Top 5 Hottest Lesbian Latina Cam Couples Online.
Ay Papi! Ready to go south of the border with two gorgeous Latina Cam girls? Get ready to party with these feisty Latina lesbian cam couples. Soft, sun-kissed skin and spicy personalities make for a potent combination to satisfy your Lebso cam fantasies. Join our top 5 Latina lesbians in their stunning and exotic live cam shows that are bound to drive you wild!
So what are you waiting for? Let's check out the Top 5 Hottest Lesbian Latina Cam Couples Online.
- SpankedPunishmen -
First up on our list is SpankedPunishmen! A kinky barely legal couple at 19 and 23-years-old. These Latina Lesbians love to perform with Dildos, vibrators, butt-plugs and more. They like to fulfill spanking, foot fetish, and smoking fetish sessions and pretty much any other kink you desire they're probably willing to play it out with you. Watch as they make each other squirt and play with strap-ons. SpankedPunishmen are a naughty young lesbian cam couple that you are sure to love.
- HelenAndCamila -
Next up is HelenAndCamila. 21 and 23-year-old best friends from Latin-America Helen and Camila, love to passionately fuck each other on cam! These sexy lesbian cam couples are more than just eye candy though, they enjoy deep, stimulating conversations as well as pleasing each other live. So you better be kind to these Naughty Latina lesbians as they will open their minds as well as their legs. In their private chatroom shows, they will masturbate with their favorite sex toys including dildos, vibrators, love balls. You name it they've got it.
- DIRTYgameBDSM -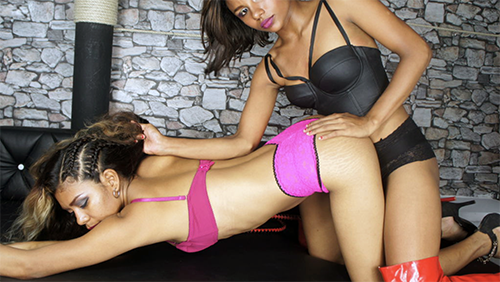 DIRTYgameBDSM says that live anal sex is their forte. If you can't tell by their name these teen lesbian cam girls, love to practice BDSM and live kinky fun. Watch as they tie each other up and fuck each other with strap-ons if you're into that stuff. Bondage, domination, foot fetish and more is what you can expect with these kinky lesbian cam latinas.
- SammyNLeiah -
Enter the open minds of SammyNLeiah, a 20/25-year-old duo who will take you to your next level of kinky-ness. You will get blown the fuck away on how these naughty lesbians perform on cam. This erotic lesbian couple love to explore each other's senses while performing on cam as it excites them to play with touch, fire, candle wax, electricity and more to make each other explode with pleasure
- AmyFtAny -
Explorers of the very hot and wild depths of lesbian eroticism, 20 and 21-year-old AmyFtAny are the last on our list of lesbian Latinas. In their live sex cam shows, they are willing to go beyond their creativeness to deliver the most pleasurable, sexual experience you could ever ask for in their private sex chat rooms. Enjoy as they perform live anal sex with strap-ons dildos and more. These Latina sex cam models will tease you as they strip, arouse you as they dance and squirt as they make each other CUM!
That is it for our live Latina Lesbian couples today. We hope you've enjoyed our list of "Top 5 Hottest Lesbian Latina Cam Couples Online" like and share this post on social media and comment below. Check back next week for hot live cam models!
MistressWorld.XXX Blog Tags: